Table of Contents for Civilized Explorer or Burning Man
Search this site
Full dose of weather - 2010

We had the most varied weather we've experienced at Burning Man. It rained, we had dust storms, we froze, we burned up. It was sunny, it was cloudy. We had dust storms.
Overall, the weather was pleasant, but it was distinctly cold at nights. We get up about dawn, and it was often 40 degrees according to the key chain thermometer. And if it wasn't forty, it was forty-five. Our tent this year (our second in it) was a Springbar. It's a canvas tent with no fly. Previously we've had "four-season" tents with flies that go to the ground and provide some insulation. It's usually 10 degrees warmer than ambient temperature after we've slept in it. Not the Springbar, however -- it's ambient temperature inside.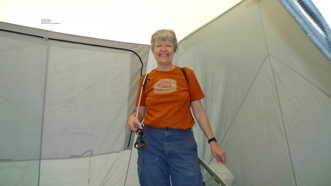 The big advantage of the Springbar is that it's a cabin-style tent with standing headroom from wall to wall. The door has standing entry height, too. While not dust-tight, it stayed reasonably clean during the many dust storms that blew through the playa over our stay there. Nothing as bad as previous years where the dust storms lasted all day, but still some major dust.
We had a dust storm right after they set the Man off on Saturday night. Many of our photos and much of the video are obscured by the dust. A couple of nights we used our GPS to find our way off the playa and back to camp, since the dust made it impossible to get bearings from the playa to any edge of town. We'd marked both our camp (at 4:00 o'clock) and 4:00 and Esplanade as waypoints, so all we had to do was turn on the GPS and tell it to go to the appropriate waypoint. Many, many thanks to William Keller for doing GPS maps and posting them online at http://www.wkeller.net/BRC-GPS/.
Again, we made use of our HeaterMeals several days, as it was too windy to cook when mealtime rolled around. It was pleasantly cool and breezy when we arrived Sunday morning, so set up was reasonably easy. We packed Tuesday morning, and the dust storms started rolling in. We departed in a total white out, but it took only 25 minutes from campsite to blacktop, in spite of meeting a watering truck head on in the exit lane (we yielded right of way, of course).
Official attendance was noted in the Reno paper as 50,504 this year, which I think is the biggest the event has been.
A heads up for next year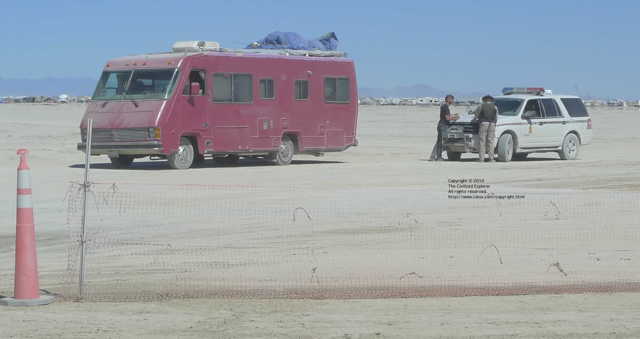 For some reason the law enforcement officers were ticketing people who were not on the correct road to Exodus. The poor guy shown here was getting a ticket after he left J or K (whatever the outside street was this year) and came down the road to Point 1.
The problem is that Point 1 is to be used solely by vendors, emergency crews, and authorized Burning Man personnel. BMOrg has people stationed at the gate to keep regular Burners from using it -- a requirement of BMOrg's permit from the BLM. The people shown in these photographs saw the gate on Exodus day and decided to try to leave that way. Louise and I were at Point 1 that Monday just to make sure only authorized people used it, and we sent several people back to J to leave by the Exodus route.
For some reason, the cops started ticketing people who were on the road to Point 1. I don't know what the tickets were issued for. The group shown below had followed BLM volunteers down the road; the volunteers could use Point 1, and a few cars just followed them down the path to where the police stopped them and started issuing tickets.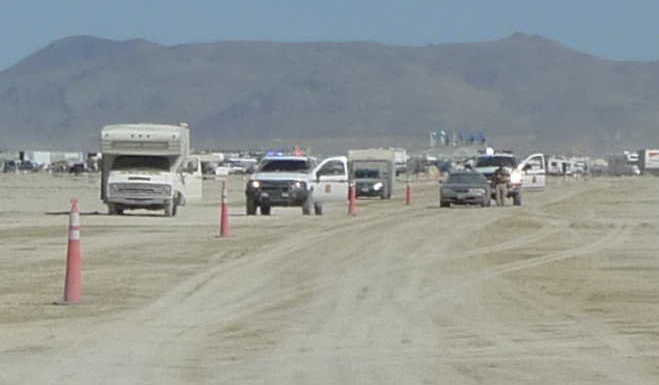 The lesson is, don't try to find a shortcut to the blacktop. Stick with the approved road out 6:00 o'clock or whatever street it is, and use that. It takes hours, but you won't have to spend your quality time with a police officer and then use Exodus anyway. I think they run warrant checks while they've got you.
Copyright © 2010 The Civilized Explorer. All rights reserved.