Table of Contents for Civilized Explorer or Burning Man
Search this site
Burning Man 2004

A lovely experience till the end
We arrived on Monday morning. It took us two and a half hours to drive from our hotel in Reno to our camp site in Hushville, which is normal. Our official REI keychain thermometer showed the high that day at 95 degrees, but several people assured us that their thermometers showed a high over a hundred degrees. Monday and Tuesday were similar -- sunny and hot. We needed the fan in our tent overnight.
On Wednesday and Thursday, though, we were hit by repeated winds and dust storms. It was cold during the day. Our thermometer showed temperatures around 40 degrees at 6:00 am. On Friday, the winds had stopped, but the temperatures remained relatively cool (85 degrees and less) during the days and cold at night.
We were pleasantly surprised that the ham-handed long arm of the law was much less obvious this year. Mostly we saw armed BLM lawmen on 4-wheeled ATVs motoring around, instead of uniformed sheriffs in black and white patrol cars. The Spock Mountain Research Laboratory remained the best paper on the playa this year, and they ran a photo of a couple of BLM lawmen spying on Burners using an SUV to shield them from view. Another good reason to put foil in all your windows, we thought.
We did see lots of men trolling the Center Camp Cafe with their right hands raised permanently to eye level with a video camera, looking for naked chicks. No white tags were in evidence on any of the cameras we saw, so we assume the "required" registration is of no effect. We asked a man in an attractive green dress to pose for us, and he kidded his girlfriend that we really wanted her to take her shirt off so we could photograph her tits like all those other guys. She said, "It's really freaking me out." Sad, but typical these days.
For the last several burns we have seen drunks enter the perimeter with the fire dancers and be escorted by the rangers to the perimeter and placed in front of the people who had been sitting there for an hour and a half to get first row seats. When we complained to our ranger, he said he had no enforcement authority and could only ask them to move. We have decided this is a good way to get the best seats for the Burn without wasting the time waiting. Why bother, when you can have a ranger give you a better seat by coming late.

The Burn of the Man was the usual raucous affair, and the Temple burn was eerily quiet, with some noise and silliness in the crowd but still a somber event. (Click the image above for a huge version of the photo.) The Temple withstood the fire, and they had to drag down four steel columns before the crowd was allowed to rush the remains of the fire.
We left on Monday. As with coming early for the Burn, this turned out to be a mistake. Black Rock Information Radio was encouraging people not to leave, but to come to Center Camp to enjoy the shade. We left Hushville at 3:00 pm and got in line, turned the car off, and waited for an hour and a half. No one moved. We could see the black top between our turn off and Gerlach, and not one car passed during that time. Not one. Eventually traffic started moving. The radio said it was a three hour delay getting to black top and not to come to Center Camp as it was being taken down. This appeared to us to show that there is no coordination within BMOrg. When things are going stupidly wrong with the exodus, striking Center Camp is dumb. It may be the only shade left for people who have taken down their own camp and now have nowhere to go and no way off the playa.
It took us two and three quarters hours to get from Hushville to the blacktop, longer than it took us to get from Reno to Hushville. The drive to Reno was appalling. Long lines of cars with people passing in the face of on-coming traffic. We arrived at the Peppermill at a quarter to nine. That is longer than it takes to drive from San Mateo to Reno. The woman in line ahead of us at check-in had left her camp at 2:00 pm, and the guy behind us had left at 2:30. When we went down the hall to our room, almost every door had a room service tray outside. We ordered room-service as well, after an exhausting six hours in our car.
We left Reno at 9:45 am and turned into our driveway at home at ten minutes till two in the afternoon, just over four hours. Two hours less than it took us to drive from Hushville to the Peppermill. We have been coming since 1996, and this was the worst experience we have ever had. We cannot imagine what people who were there for the first time thought as they left -- it is their final taste of what Burning Man is all about. What a horrible aftertaste it must have left.
We are sure we had a wonderful time at this year's Burn. It is just difficult to recall it after the disastrous exodus.
---
Overall, we think this was a good year for first-timers, if they arrived on Monday. The first two days would have given them a taste of the heat, but not too much. On September 3, our thermometer showed 55 degrees in the tent and 40 degrees about 6:00 am when we got outside. It was only 60 degrees at nine, and the temperature did not get above the seventies. On the September 4, our thermometer was below 40 at 7:00 am, and it was cold at night for the burn. The two afternoons of dust storms were bearable and a taste of what it is like to have a few. The dust did not seem to keep anyone from having fun. Overall, as we said, a bearable mix of hot, cold, and dust, with splendid -- if cold -- weather on the nights of both burns. And, thankfully, no rain.
Every time we go to Burning Man, we learn something new. We learned this year that the diversity there is greater than we had imagined. Burning Man is an incredible laboratory of experimentation as well as self-expression. And yet with all the diverse interests being played out upon the stage of the playa, the common interests and even common courtesies hold all the diversities together. The harshness of the environment could act destructively on the community on the playa, but instead something makes it a forge that helps us weld together a cohesive anarchy of fun, art, and kindness. (Well, at least until exodus this year, when it all stalled in the dirt.)
There is no official meaning for the event. Burning Man means whatever you vest it with. If you vest it with play, it means play. If you vest it with art, it means art. If you vest it with vacation, it means vacation. And all of us together bring ourselves to Burning Man and vest the event, some of us with what we are, some of us with what we have. And we get back from Burning Man more than we give. If we give all we are, all we have.
If you want to have the pleasures of Burning Man without the armed law enforcement and one-handed pervs videoing your pleasures, Do It Yourself. We have three suggestions. First, BMOrg encourages regional contacts for year-round communications and burns simlar to the one and only. See Regional Network for details, especially the link to The Burning Man Network. (We don't provide the direct link to that page because we think you should browse the entire network site for the additional information it provides.) We know people who attend regional BM-style events and who find them quite fulfilling. Regional events are tied in through the network; although the pages are displayed with the left margin cut off on our browser so that we can't see the first few characters of each line, we think the agreement between BMOrg and the regionals is worth reading. Read, understand, and believe in the agreement before you commit to a regional event. Many regionals (maybe all of them) take place in environments less daunting than the playa, allowing people to attend who will not or cannot make the Burns at Black Rock. Doing a regional event may give you some appreciation for the incredible workload shouldered by the people who bring you Burning Man every year.
Second, if you do not want to enter into a formal relationship, start an informal group. We are aware of several such groups. The distinction here is that these groups practice an exclusionary community of trusted persons. While BMOrg promotes and practices radical inclusion of one and all, informal groups can limit their membership to people who are trusted not to sell videos of group events and who are known to accept the small community's standards. Being free to be yourself when you do not meet "normal" standards in the outside world is wonderfully liberating. Having a three-day weekend event for this group builds community that transfers not only to interpersonal relationships in the real world, but also to the annual event in Black Rock City. These relationships make the Burn much more personal when you can continute to deal with trusted members of your personal community. Additionally, these informal groups may be able to include people who would be wonderful Burners but who cannot attend or do not desire to commit to the harsh playa. Even better, no one will make you sit in the parking lot for two or three hours before allowing anyone to leave.
Third, make your Burning Man camp a theme camp. If you do not wish to comply with the onerous burden of having an officially sanctioned theme camp with an alloted space, create your own. We know of several groups of Burners who decided on an area for camping at the event and created their own space. NOTE: land grabs are specifically prohibited. If you try to have someone arrive early and mark off an area, be prepared to have your markings removed and your area fully camped in by any and all who arrive. By timing arrivals so that your chosen area is fully occupied in one swell stoop, you may be able to provide a central shade and community area with some illusion of privacy, where you can have fashion shows, a video-free environment, and whatever. Keep in mind though that no one at Burning Man owns any space, so people can and will wander through.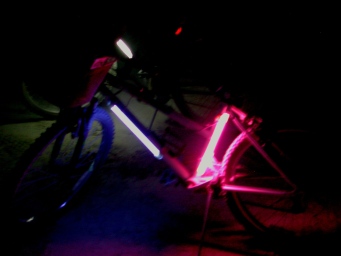 A note on preparedness: We had many new light toys with us this year, and three failed, we think because of the dust. We had cold cathode bike lights from EL Wire Cheap, and we had ordered the inline switches so we could turn the lights off instead of removing the batteries to disconnect power. We also had blinking tail-lights for our bikes. Both switches on the bike lights failed within days of arriving on the playa. The first failure led us to wish we had brought our VOM meter to trace the short, but we took things apart and re-built the circuit till we discovered the problem. We removed the switch and wrapped bare wire together with electrical tape as the switch. When the next one failed, we cut the switch out and used the bare wire to test it. We also inadvertantly pulled some of the wires out of their plugs (flowing clothes and loose wires on a bike frame do not get along well together), but we were able to re-insert them and tape them in place. The blinky light has a switch built into an integrated circuit which cannot be removed or repaired, so when it stuck in the on position, we decided it was trash. We were happy to have brought wire cutters, pliers, and electrical tape. The cold cathode tubes got rave reviews from all who saw them, and if we had not been prepared for the minor electrical diagnosis and repairs, we would have been without them very shortly after arrival on the playa. If you are bringing toys to Burning Man, be prepared to figure out why they suddenly no longer work and to have the basic tools to fix the problem.
A whine about giving things away: We were riding our bikes along Sedna one fine day, when a woman driving a car in the opposite direction began yelling "Pull over! Pull over!" at us. We said "no thanks" and she yelled "It's Burning Man, and I'm supposed to give things to people!" Well, how could we refuse. She gave us a bookmark and a decal that says it is a view of Battery Park. Then she drove on to her next gift event. We have, we are sorry to say, forgotten what the bookmark advertised, as we mooped it upon our return to The Civilized Explorer campsite compound. Another person gave us bookmarks, although it was after we handed him a button for the 2004 Burn. While we hate looking gift horses in the mouth, if you plan on giving things away at Burning Man, please let it have some relation to the event or the theme. You know -- fire, burning, radical expression, pole vaulting (this year only), dust, naked people. (A big exception: anything you've made with care and love is always appropriate, without regard its theme.) Having someone yell at us and tell us we have to let her give us a decal of Battery Park because it is Burning Man and she has to give us stuff is like, well, it's like missing the spirit of Christmas. [Addendum, November 2004: see our table of contents for "Stranded in Kansas," a tale from a first-time burner and how he learned to give.]
We'd like to make a suggestion: Instead of thinking of it as a gift economy, let's think about it as a sharing economy -- share something of yourself with your friends at Burning Man. And we're all friends.
Brad Templeton has been coming to Burning Man for years, and he has a Web site for this year's event, and here are links to the view ahead of him at the exodus, and the view behind him.
Update:
The 2004 Afterburn Report is out, and the Exodus is covered. The official summary: "All in all, 2004 was another good year for Exodus, ... ." Oy vey ist mir. The game plan was claimed to be reducing traffic backup in Gerlach and Empire by keeping it on the playa instead. That plan was a complete success. The report refers to "maintaining a highly efficient process of getting people out of the [Black Rock] city and onto the highway." We guess we missed that part of the day. The result of this highly efficient process was that "some people ended up speeding down Gate road to make up for time sitting ... ." Well, it took us over two and a half hours of sitting to get from our camp to the blacktop, and we spent six hours in our car getting from camp to Reno. Highly efficient, indeed. We look forward to another highly efficient good year in 2005.

---
This is not the official Burning Man site. That Web site is located at Welcome to Burning Man.
Copyright © 2004, 2005 The Civilized Explorer
ALL RIGHTS RESERVED.
---