Table of Contents for Civilized Explorer or Burning Man
Search this site
The Civilized Explorer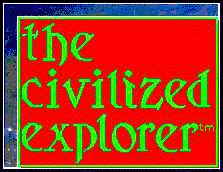 Transportation at Burning Man 2001
As usual, transportation at Burning Man was varied and creative. These pictures give only a very small sampling of the works of art on wheels at Burning Man 2001.
---
bassCar.jpg
bikes.jpg
cheshireCar.jpg
cobra.jpg
cowboys.jpg
discoBelle.jpg
disturbiaBus01.jpg
disturbiaBus02.jpg
fireTruck.jpg
fishCart.jpg
fuzzyBike.jpg
hammock1.jpg
hammock2.jpg
jetCar.jpg
mirrorVan.jpg
poolCarjpg
tentCar.jpg
windSail.jpg
---

---
This is not the official Burning Man site. That Web site is located at Welcome to Burning Man.
The Burning Man Archives contain every Web site for the Burning Man known to Man. Please browse that site as well.
Copyright © 2001, The Civilized Explorer
ALL RIGHTS RESERVED.
---